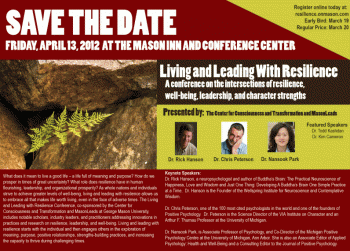 What does it mean to live a good life – a life full of meaning and purpose? How do we prosper in times of great uncertainty? What role does resilience have in human flourishing, leadership, and organizational prosperity? As whole nations and individuals strive to achieve greater levels of well-being, living and leading with resilience allows us to embrace all that makes life worth living, even in the face of adverse times. The Living and Leading with Resilience Conference, co-sponsored by the Center for Consciousness and Transformation and MasonLeads at George Mason University, includes notable scholars, industry leaders, and practitioners addressing innovations in practices and research on resilience, leadership, and well-being. Living and leading with resilience starts with the individual and then engages others in the exploration of meaning, purpose, positive relationships, strengths-building practices, and increasing the capacity to thrive during challenging times.
Top Right Widget

All you need to do is to visit your widget tab replace this with your widget

Convening Organizations
Initiated in 2009, the Center for Consciousness and Transformation is an interdisciplinary research and teaching center at George Mason University whose mission is to understand the nature and effects of individual and group consciousness and its role in transformative learning and social change.

Convening Organizations
MasonLeads is a George Mason-wide initiative to inspire the development, emergence, and recognition of leadership throughout the Mason community by: (1) raising campus-wide awareness of leadership opportunities for our students, faculty, staff, and community, (2) encouraging student, faculty, and staff participation in leadership development, (3) forming a cross-disciplinary community of leadership scholars, (4) publicizing and celebrating acts of leadership throughout the Mason community, and (5) building a culture at Mason that values leadership at all levels of the institution